In January, Soap Central first reported that General Hospital was in talks with Emmy winner Vanessa Marcil (Brenda Barrett) about a possible return to the show.
"We have actually been in contact with Vanessa, and there is interest on both parts in seeing Brenda return," General Hospital's head writer, Robert Guza, Jr., said at the time.
Since then, there's been little in the way of progress. After all, Brenda hasn't set foot in Port Charles. Still, Soap Opera Digest is now reporting that Marcil's return could be closer than ever.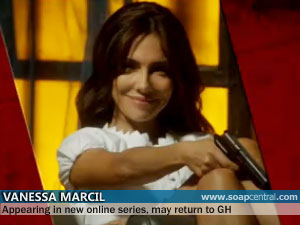 "We are talking to Vanessa Marcil as we speak," Guza told the magazine. "That is the truth. [...] She's interested. We're interested."
For Marcil's fans, the scenario may seem like one big déjà vu. By now, Soap Central readers know that this isn't the first time that General Hospital and Marcil have tried to find a way to work together.
In January 2009, Marcil revealed that she was "trying to make [a return] work." A series of primetime engagements prevented that return. Though the actress recently appeared in the online series, The Bannen Way, she is currently not attached to a primetime project.
Marcil originated the role of Brenda in September 1992. In 1998, she left the soap to pursue other opportunities. She quickly landed a role on Beverly Hills, 90210. In 2002, Marcil returned to General Hospital for a short-term engagement. The result of that five-month return was Marcil's first-ever Daytime Emmy award. Marcil last appeared on General Hospital on February 19, 2003.
Photo: crackle.coM
---

RELATED STORY
General Hospital in talks with Genie Francis about a possible return. [Jan 4, 2010]