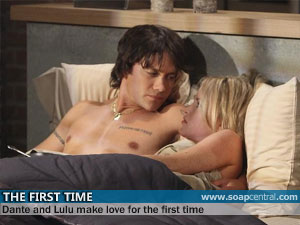 May 5, 2010 is a big day for fans of one General Hospital couple. That's the day that one of the show's hottest couples, Dante Falconeri and Lulu Spencer, make love for the very first time. How how are "Lante" -- as fans call them? Would you believe hot enough to have a cupcake named after them?
Santa Monica's Vanilla Bake Shop has created the "Lante" cupcake in honor of the GH pairing. What exactly is a Lante cupcake? It's a dark chocolate cupcake with a whipped mascarpone cream center, topped with a mocha/hazelnut buttercream frosting and Valrhona chocolate crunchies.
On Wednesday, May 5, the first 200 customers to the Vanilla Bake Shop can enjoy a Lante cupcake -- for free. It's all part of a special celebation to mark the couple taking their relationship to the next level.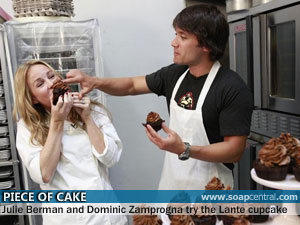 The free cupcake offer is valid only for the first 200 customers through the door. The Vanilla Bake Shop is located at 512 Wilshire Boulevard, Santa Monica, CA. Doors open at 9:00am.
For information on the Vanilla Bake Shop, visit their web site at www.vanillabakeshop.com
And be sure to tune in to General Hospital on May 5 as Lulu and Dante consummate their relationship. It's must-see TV for any Lante fan.
Photo Credit: ABC