As previously reported, we're about a month away from Vanessa Marcil's (Brenda Barrett) big return to General Hospital. ABC is pulling out all the stops to make sure that fans are caught up on the trials and tribulations of Marcil's Port Charles alter ego.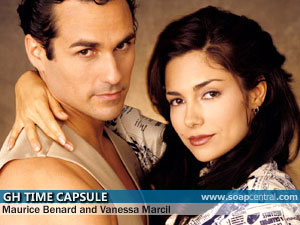 When General Hospital viewers last saw Brenda in 2003, Brenda bolted from Port Charles after Jax left her at the altar. Now, according to ABC, Brenda's return to Port Charles "comes at a time when the three most important men in her life -- Sonny, Jax and Jason -- are all in crisis." Things aren't much better for Brenda. She's in a heap of trouble of her own, and she's carrying an explosive secret.
To mark Marcil's return, ABC will air a preempt its daytime lineup with a special three-hour block of Brenda-themed episodes on Tuesday, August 10 -- the day before Brenda resurfaces on General Hospital. The Brendathon, featuring classic episodes about Brenda's relationship with the aforementioned three men in her life, will preempt all regular programming.
Here's a breakdown of what fans will see during the special programming.


1:00 PM ET (All My Children's timeslot)
Episode #8602: Originally broadcast on November 5, 1996
As Brenda prepares to marry Jax at the Quartermaine mansion, Sonny interrupts with Miranda, who's still married to Jax.
Note: The episode also marks one of the first General Hospital recaps ever written on Soap Central

2:00 PM ET (One Life to Live's timeslot)
Episode #8831: Originally broadcast on September 24, 1997
After being left at the altar by Sonny, Brenda reminisces about the key moments of their relationship.

3:00 PM ET (General Hospital's timeslot)
Episode #10138: Originally broadcast on October 29, 2002
Brenda and Jason's Las Vegas wedding
New episodes of your favorite soaps resume airing on August 11 and pick up where things left off on August 9. There will be no lost episodes as a result of the programming change.
You've probably noticed that the actress is going by a new name -- Vanessa Marcil Giovinazzo. Marcil recently tied the knot with boyfriend Carmine Giovinazzo. The couple kept their union quiet, but chose an interesting venue to break the news: the Daytime Emmys.
--->
---

RELATED STORY
ABC says it will air classic episodes of AMC, OLTL, and GH to help refresh fans' memories