Fresh from their win at the Daytime Emmys, the directing team of General Hospital recently undertook another huge, daytime first. The results of their hard work hit televisions across the country this week.
Last month, General Hospital filmed on-location scenes at the Pacific Design Plaza, a building adjacent to the The Museum of Contemporary Art, Los Angeles (MOCA). Though the West Coast is a few thousand miles away from Port Charles, New York, the museum is only a short drive from the studio where General Hospital is filmed.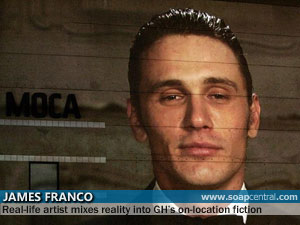 In General Hospital's storyline, the fictional Franco holds an art exhibition at MOCA Pacific Design Center, setting the stage for a collision of reality and fiction. Franco's exhibition will include full-scale models of the various locations where Franco encountered Jason Morgan. The special episode, though entirely fictitious, is part of real-life artist James Franco's (Franco) Soap at MOCA project, which kicks off a series of performance art projects at the museum.
"Soap at MOCA is an attempt to both blur and define the lines between different disciplines, between life and art, between art and popular culture, and between representations of the self as both performative character and as non-performative self," Franco commented.
"James Franco's collaboration with MOCA through Soap at MOCA: James Franco on General Hospital allows mass entertainment to be viewed through an art world filter," MOCA director, Jeffrey Deitch, who also appears briefly in scenes with Franco, explained. "Franco's artwork examines performance: it looks at the multiple levels of identity that are wound into performance; the legitimacy of some performance over others; the contextualization of performance; and how this changes perception and even the nature of performance."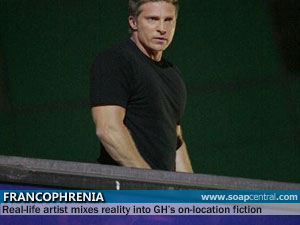 The on-screen art exhibit will feature music by Franco's artistic collaborator Kalup Dashinel, played by critically acclaimed video and performance artist Kalup Linzy, who performed live during the taping.
As Port Charles residents start to put together the pieces of Franco's twisted plot, they travel to Los Angeles. Franco attempts to lure Jason and the others into his art-trap. If all goes to plan, mastermind Franco will turn both Jason Morgan's life and his own death into art, a performance to end all performances.
James Franco had behind-the-scenes footage of the on-location shoot filmed for a real-life exhibition that he plans to show at MOCA later this year.
According to reports, the MOCA episode took nearly ten hours to film, beginning on a Thursday evening at about 8:00pm, and lasting until about 6:00am Friday morning.
The action begins on July 22, 2010.