Michael Sutton (ex-Stone Cates) will return to General Hospital next month. The actor was part of one of General Hospital's most memorable and groundbreaking storylines: 1995's romance between Stone and Robin, and Stone's subsequent death from AIDS-related complications.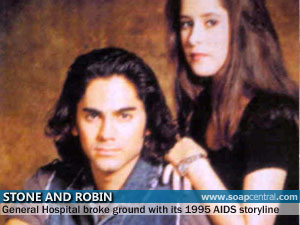 Fans need not worry that the ABC soap is planning to undo its landmark 1995 AIDS storyline. TVGuide's Michael Logan reports that Sutton "won't be coming back as a ghost or a spirit." Instead, Robin will see Stone when she finds herself in a "physically perilous situation."
At ABC's request, details of exactly how Robin's life hangs in the balance are not being revealed.
Since leaving General Hospital in 1995, Sutton has focused his attention on things outside of acting. Sutton is a highly successful restaurant owner and nightclub promoter in Los Angeles.
Sutton was nominated for an Outstanding Supporting Actor Daytime Emmy for Stone's death storyline.
Sutton will return for a special two-episode story arc beginning on September 28.
--->
---