Emmy winner Finola Hughes (ex-Anna Devane) is using her General Hospital alter ego's WSB training in the new feature-length film, Special Ops.
The film, which also stars A.J. Draven and Steven Bauer, follows an American Marine fighting to clear his name and save the lives of millions when top secret weapons fall into the wrong hands.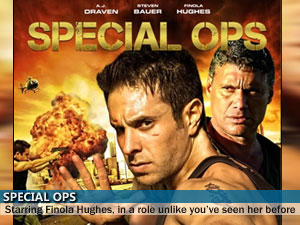 Hughes plays the devious Lilian Carlisle, head of an American weapons manufacturing corporation. A tough woman with unlimited authority, who ultimately abuses her power. Hughes admits that she has "always had a love for the bad girls," and she takes bad to the extreme with this character.
Special Ops is produced by In-Motion Pictures and directed by Tom Shell. The film was nominated for seven awards at the recent Action-On Film Festival, including Action Film of the Year.
A.J. Draven, who plays the American Marine that Finola Hughes is chasing through the South Pacific, was voted the winner of the Breakout Action Star Award for his performance.
The film is available now on Blu-Ray, DVD, On-Demand, and iTunes.
For additional details and ordering information:
www.Specialopsthemovie.com