General Hospital has confirmed that fitness and weight loss guru Richard Simmons will be returning to the show for its 50th anniversary celebration.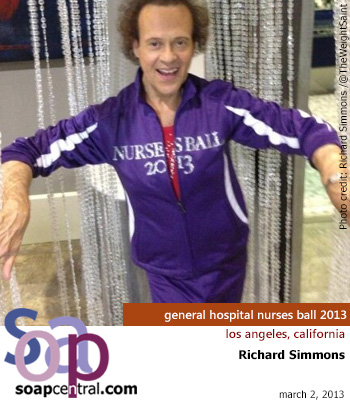 Over the weekend, Simmons posted a picture of himself on Twitter in which he is wearing a purple tracksuit with "Nurses Ball 2013" emblazoned on the jacket in sequins.
"I'm sending you a big smile. I have a secret and you'll know soon," Simmons wrote in a caption for the photo.
General Hospital's head writer, Ron Carlivati, later made a Twitter post of his own, teasing that the Nurses Ball is "coming," and attached Simmons' photo.
Simmons appeared as himself on General Hospital from 1979 through 1983. He is expected to "add pep to two episodes" of General Hospital