Posted Thursday, December 12, 2013 6:35:36 PM // Updated Thursday, January 09, 2014 1:16:44 AM
Self-admitted soap opera fan Chandra Wilson (Miranda Bailey, Grey's Anatomy) is headed to Port Charles to make a guest appearance on General Hospital on January 29, 2014. The guest spot was to have aired a day earlier, but a pre-emption push the schedule back one day.
"I've watched GH for 35 years. I grew up with it. It holds such a place in my heart," Wilson confessed.
Wilson told Soaps In Depth that Grey's and GH have shared the same ABC lot for ten years, but she couldn't talk to anyone. "It's weird to see them because they're supposed to be in Port Charles! I have that kind of fan disconnect," Wilson added.
Wilson admits that she's talked about a Grey's/GH crossover for years, but she's not exactly sure how it came about. Wilson reveals that Roger Howarth (Franco) recently visited the set of Grey's Anatomy and that they had mused about the idea of a guest appearance, but it had ended there until the following Friday when Frank Valentini (GH's executive producer) reached out to her.
Initially, Wilson wondered if Howarth had anything to do with it, but Valentini told her that the crossover had been in the works beforehand, so there was no Howarth involvement. "But I'm glad it's happening," Wilson admits.
Whether Wilson will be portraying her popular alter-ego, Dr. Miranda Bailey, is unclear, but it has been confirmed that she will be interacting with Kevin Collins, GH's overworked psychiatrist who recently promised his on-screen wife, Lucy Coe, that he would scale back on his long hours to save his marriage.
The crossover seems to be a good fit, since both shows center around hospital drama. Additionally, both Grey's Anatomy and General Hospital are currently enjoying a ratings surge, so the timing is perfect and is sure to keep the momentum going.
Wilson earned a BFA in Drama at NYU's Tisch School of the Arts, through which she spent four years at the Lee Strasberg Theatre Institute. She's also a four-time Image Award winner and has a Screen Actor's Guild Award and a People's Choice Award under her belt.
The guest spot marks Wilson's first appearance on a daytime soap opera, and ABC is teasing fans with a photo of Valentini, Wilson, and Howarth on the GH set.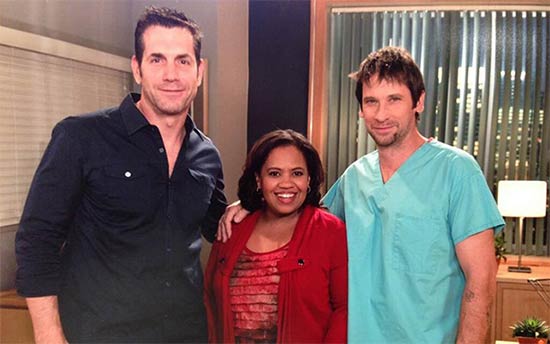 What do you think of Chandra's appearance on GH? Would you like to see her appear as Grey's Anatomy's Dr. Bailey -- or should she play a new character? Would you like to see GH characters crossover to Grey's?. Share your thoughts in the Comments section below this article or you can click here to send us feedback.
Photo Credit: ABC