General Hospital's Anthony Geary (Luke Spencer) recently joked that all it takes to successfully deliver a live show is to remember your lines and not knock over any furniture. The truth is, however, delivering entertaining live shows takes a lot of work. Fortunately for General Hospital, which will be airing live on Friday, May 15, and Monday, May 18, the cast and crew are up to the challenge. Well... mostly! Soap Central spoke with GH star Michelle Stafford (Nina Clay), who not only teases that the special shows are sure to get viewers' heads spinning but also declares that bloopers are definitely on the horizon.
soapcental.com: It was a really fun idea for General Hospital to go live, and fans seem to be very excited. Are you also excited, or would nervous be a better word?

Michelle Stafford: No, it's so exciting. Oh, my gosh, actors love stuff like this. Very few actors don't want to do a live show. Very few. Most people want this kind of kind of challenge, and I even think those that say, "No, I don't want to do it," I think secretly do.
soapcental.com: Generally you guys only get one take, right? So will it really be all that different from a normal day?

Stafford: Yeah, I know, exactly. But it's different in a sense that you know you cannot screw up, and you have to keep on going. Yes, we only get one take, but at least usually you know that if you forget one line, we can stop. But we can't for this! We can't. So we're all kind of in it together. It's very morale-boosting, as well. It's very good for the cast to do this together. And something is happening for every single person, for every character who's on the show, something big is happening for them.
soapcentral.com: So it's coming at a perfect time storyline-wise?

Stafford: Yeah, I think they worked it out that way purposefully. They were asked by Paul Lee [President, ABC Entertainment Group], to do a live show, and then they just figured it out, like, "How will we do this, and what are we going to do?" It's a game-changer for various storylines, it's a change in story, or it's an end of story and something new comes out of it, or it's the climax of a story. So it's like, for every single story, there's something big happening.
soapcentral.com: Are you able to give a tease as to the specific kind of material viewers can expect? Will the shows feature something special, or will they just be the normal continuation of current story but in a live setting?

Stafford: No, no; it's special for everyone. There's something important happening for every storyline... someone has a secret, someone is getting married, someone is in a dire situation. Something important is happening for every single storyline and every single character. So that's what is really cool, because big things are happening.
soapcentral.com: So all the fan favorites will be participating?

Stafford: Yes, though I know there will be some people who won't be a part of it who I know would love to be a part of it, but they're a part of other things. Everybody gets things at GH. If you don't get this one thing, you get something else. My particular story, it goes a way that I didn't expect it to go. So that was kind of interesting, and I think it will be interesting for the viewers. They'll be like, "Wait, huh? What?!" And it changes the character for me a bit. It's fun, really, really fun. I love playing Nina. She's very complex, and we're just going to find more of that out in the months to come, what her background is and how completely tormented and damaged she is. And crazy people usually [have that], you know? They're not just crazy for fun. There are things that have happened to them that have made them like that, and we'll get to see hers.
soapcentral.com: At the risk of being a jinx here, do you typically remember your lines pretty well on a daily basis?

Stafford: Well, I don't believe in jinxes! But I do "go up." I do. Especially when I'm listening to someone and I'm really in the moment. That's when I go up, because everything just leaves my head, and I'm so interested in what that person is saying to me and so riveted, so I will tend to forget my lines if I'm really in a scene, which is not a great thing. But usually, Roger [Howarth, Franco] saves me. He has saved me on a couple of occasions. He's very, very good at that. He really has, in these live shows, he has quite the challenge. Oh, my gosh, he has quite the challenge. A lot of stuff is on him, and he's really, really good at working under pressure. He's a really good actor, and he did the live show on One Life to Live, so I think they knew he could handle the challenges that they gave him.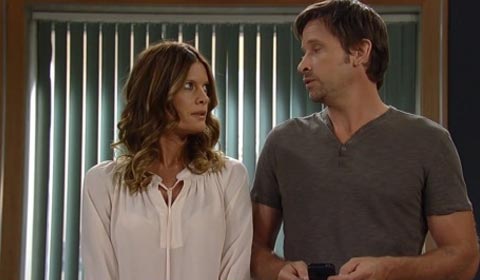 soapcentral.com: Does he seem at all hesitant? Or does he seem to have the same "bring it on!" mentality you do?
Stafford:
Well I'm more like, "YAY!! Oh, my gosh, this is so much fun!" and he's more like, "Yeah, this is cool." [laughs] So yeah, he likes the challenge. He's a really smart guy. He's a smart actor, and smart actors like to be challenged. He'll be great. He'll be so, so, so great.
soapcentral.com: Obviously, we want you all to do a great job, and I'm sure you will. But I think people are secretly hoping for bloopers, as well. Don't you think?

Stafford: Oh yeah, people are looking for us to screw up, so I'm purposefully going to do a couple of things to make people wonder if I screwed up or not. I've got them planned, a few things planned.
soapcentral.com: Of course, when you plan things, it never goes quite as you imagined, so this should be fun!

Stafford: I know, right! I'm sure someone is going to screw up. There are a lot of things to the show, like some quick changes and some other wild stuff going on. It won't go smooth. It's going to be as good as it's going to be, but they've made it challenging, definitely.
soapcentral.com: Well, then, it sounds like it's going to be extra fun.

Stafford: Yes, I hope so. I've read both of the scripts, just to get the feel for the chemistry and the flow of the show, and it's really two great shows. It's two amazing shows.
soapcentral.com: Did you study those scripts a little longer than perhaps you do on any other day?

Stafford: You know what, I usually don't get the entire script, and they gave us the entire script for these two shows. I was really glad, because I'm really that kind of actor; I need to see what was before my scene and what comes after my scene. I need to see the flow of a show, and they don't do that on GH. You don't get the whole script. And so a lot of times, I've been bummed and I'll have mini calls to [the writers] going, "Hey, what's going on before and after this?" So anyway, I really enjoy reading the whole script. I'm that kind of actor. I really like to know what I'm setting up, because it's all about that in daytime TV. You're setting up the next scene. You're talking about somebody, and then their scene comes up, or they're setting up your scene. So I really like to see what's before and after me, so I really enjoyed this. And I really saw the purpose for my scenes and the tone of my scenes juxtaposed with the other ones. It made me understand the scenes more, as well.
soapcentral.com: Would you ever consider doing The Stafford Project or The Secret Mind of a Single Mom live? Would that even be possible?

Stafford: Well, The Secret Mind of a Single Mom is only two minutes, so I don't think it would be cost-productive for me to do that. And it's not that type of show, but I think a live stream of The Stafford Project would totally be fun, yeah. I would totally do that, sure. And if people would jump in and watch, great!
To catch GH's live extravaganza, be sure to tune in to the ABC soap on Friday, May 15, and Monday, May 18.
Are you looking forward to seeing GH air live? What skeletons do you think are hiding in Nina's closet? We want to hear from you -- and there are many ways you can share your thoughts.