Things are about to get very interesting on General Hospital, because Jeffrey Vincent Parise is bringing love-to-hate-him Carlos Rivera back to the canvas.
Soaps In Depth reports that Parise will be dropping into Port Charles this week, and while Carlos' last appearance was a figment of Julian's (William deVry) imagination, there's no telling what this next appearance might bring.
Will Carlos be back to haunt Julian one more time? Or will his return pertain to one of the many other GH storylines he's tied to at the moment? Or perhaps the rumor that Carlos has an evil (good?) twin or look-alike cousin will end up being true.
GH is remaining tight-lipped with details, so it looks like viewers will have to tune in this week to find out!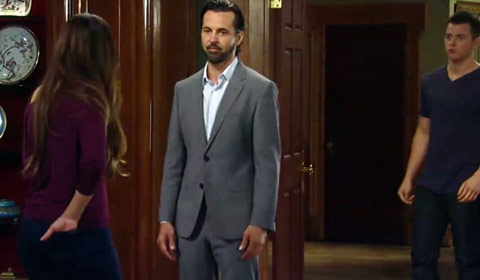 UPDATE
On July 21, viewers found out what Sabrina has known for years: Carlos had a look-alike brother named José (who now goes by the name Joe).

In the latest issue of Soap Opera Digest, GH co-head writer Jean Passanante explains the show's decision to bring Parise back as a new character. "Joe is not Carlos. He is a very different man from Carlos. He actually even looks different from Carlos — sort of [laughs]! It's fun to see a different side of this actor and to give the audience a chance to see him do something completely different."
Are you happy for Parise's GH return? What do you think about him playing Joe? We want to hear from you -- and there are many ways you can share your thoughts.