It looks like Tonja Walker's (Olivia Jerome) whirlwind return to General Hospital is coming to an end -- but it isn't over quite yet. The actress took to social media on Monday to announce that she's wrapped up her stint on the long-running ABC soap. A day later, she returned to say that wasn't quite the case.
"Last week on GH for awhile! Hope to be back," Walker shared on Facebook on Monday, adding that she'd continue to air until mid-March. "Thanks for writing [to] Nathan Varni, Producers, writers and Soap Press for so long to help make this time possible for Me! Keep watching! It gets better all the time!!"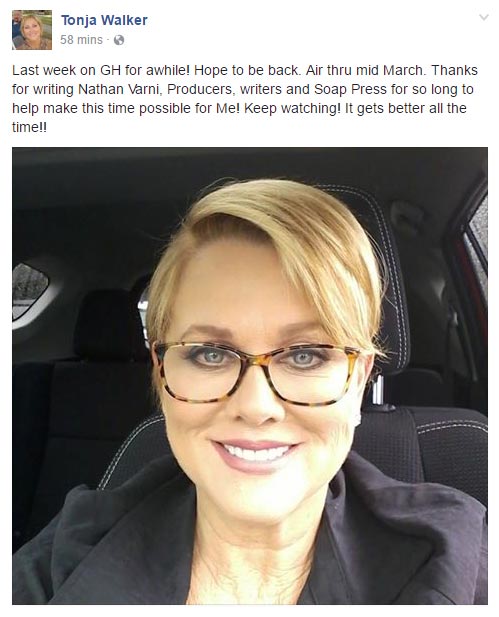 Today, Walker took to Twitter to say that she actually will be back at work on General Hospital when the show returns from a two-week production hiatus.
"I totally mistyped yesterday," Walker shared on Twitter, "I am in my last weeks. 3 more. AND The story has JUST started, Slowly, but it picks up fast."
"It's a huge story," Walker added."[It] just started! Goes on, gets crazy! Working w all plus SURPRISES. In last weeks. I'm shooting 7 again this week b4 break."
In addition to revealing many of the cast mates she'll be working with, Walker indicated that she will still be making an exit in the weeks ahead, reiterating, "I am on at least until late March."
Walker returned to General Hospital last month after a 26-year absence. The actress was clearly overcome with emotion and shared her heartfelt gratitude to fans in a Facebook Live session.
"If I'm supposed to stay, great; if I'm not supposed to stay, great," Walker shared in the video where she directly addressed her fans. "It's just a great opportunity, and it's because of you."
UPDATE (February 10):
ABC had no comment on Walker's status with the show. However, a source tells Soap Central that executives were furious that Walker tweeted information about her exit. William deVry took to Twitter to discuss his on-screen sister's work on the show in the past tense, saying. "Having @Tonjawalker on GH has been fun!! Thx for giving us a good kick in the butt!!"
How do you feel about Walker exiting General Hospital? Are you surprised that her stint has already wrapped up? We want to hear from you -- and there are many ways you can share your thoughts.