ABC has confirmed that Lisa Cerasoli (V) will leave General Hospital in July. Her last tape date was Thursday, June 27th.
"I'm really sad," says Cerasoli. "I've made the most fabulous friends the past two years on the show, and it was a wonderful experience for me."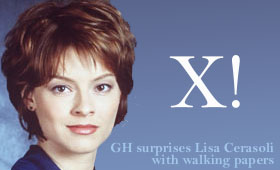 Cerasoli signed a three-year deal with GH last summer, but the powers that be decided to cut the contract short. V was originally established as a love interest for Jax, but the romance never really took off the way the folks at GH has hoped. But all hope is not lost. V will still find love---just not with Jax.