ABC has confirmed that it has signed A Martinez to a contract to appear on General Hospital. The reports of Martinez's impending arrival have been circulating since early August.
Martinez will first appear on General Hospital on October 1 as Roy DiLucca. Long time fans of GH will recall that DiLucca died in the arms of his lover, Bobbie Spencer, back in 1979. Of course death is never final on the soaps. All My Children recently brought back Mike Roy (Nicholas Surovy). Mike died in the arms of his lover, Erica Kane (played by Emmy winner Susan Lucci), back in 1986.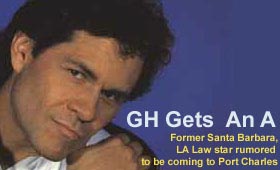 Martinez starred as Cruz Castillo on the now-defunct soap Santa Barbara for six years. He also known for his work on the primetime series L.A. Law and recently appeared as Nick Cooper on NBC's drama, Profiler. On Santa Barbara, he starred opposite of Marcy Walker (Liza Colby Chandler, AMC). There have been unconfirmed reports that ABC plans to reunite Walker and Martinez in some sort of crossover storyline.