Although the deal has not yet been inked, don't worry too much about Maurice Benard's (Sonny) contract coming up for renewal in November. Benard says, "Things have to be worked out. There are a few things I want, and if they don't give them to me, I don't know what's going to happen. Right now, I'm in limbo, and I don't really like that. .....I'm into staying, unless something else comes along. I'm here. I'm going to be pretty reasonable, I think. We'll see." I'm sure the powers that be are going to work to retain MB after his stellar performance in the manic-depression storyline that is being played out.
About her upcoming departure from the show, Mary Beth Evans (Katherine Bell) says that the decision to leave was mutual between herself and the show. "I feel that I'm ready for a break, and I am so excited about it. I have all kinds of things that I want to do and lots of irons in the fire." When asked about returning to her previous role as Kayla on Days of our Lives she said, "I would absolutely be open to that, but not right now. And I don't think they have a place for me there now anyway." It is not yet revealed exactly how Katherine will be written off the show.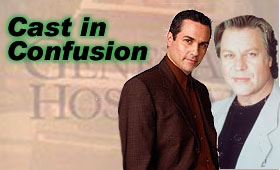 Another possible departure that is being discussed is that of Brad Maule (Tony Jones). Maule has been with the show since 1984 and states that he would be very interested in staying. ABC, as per policy, refuses to comment on contract discussions. The Brad Maule Fan Club is already hard at work to ensure that the powers that be know that Maule will definitely be missed should he be let go.