More from the world of Lucky: The New York Daily News reported on December 10 that Jacob Young, (ex-Rick Forrester, The Bold and the Beautiful) has been selected to replace Jonathan Jackson in the role of Lucky Spencer, but ABC is still swearing that there is no recast signed.
When asked about the prospect of Jonathan Jackson returning as Lucky, his manager, Tony Monziotti, says, "Jonathan has made it known to the-powers-that-be at ABC that he would be willing to come back for a short period of time." He went on to say that Jackson would be willing to reprise his role as Lucky if Rebecca Herbst (Liz) would also leave the show when her contract expires in June 2000. "That way," says Monziotti, they could leave together and go off to start their life together -- and have periodic returns. It makes perfect sense."
Herbst has also voiced an interest in this idea, but it appears that ABC, at this time anyway, is displaying a greater interest in keeping both Lucky and Elizabeth around.
Earlier this year, Jonathan Jackson vacated the role for which he'd won two Daytime Emmy Awards. The actor is said to have wanted a break from the daily grind of taping as well as a chance to pursue other ventures outside of daytime television. Jackson has already appeared in a feature film opposite Michelle Pfeiffer.
At about the same time that Jackson left GH, Jacob Young announced that he planned to leave The Bold and the Beautiful. Ironically, Young, who played Rick Forrester, was also nominated for the Outstanding Younger Lead Actor is this past year's Emmy awards. Jackson won.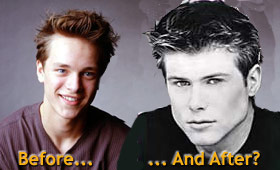 Young's departure from B&B was riddled with confusion. Reports said that he wanted out-but then agreed to stick around until the casting department could find a replacement. That replacement turned out to be Justin Torkildsen.
The recasting of the role of Lucky Spencer is going to be very difficult. Jackson was a huge fan favorite and for many viewers there will never be another Lucky. The writers, however, should not be faulted for having created a likeable character. Additionally, they should not be boxed into a storyline simply because Jackson doesn't want to return to GH at this time.
According to the Daily News, the deal might be signed by the end of the year -- or shortly thereafter.
---