The best laid plans... you know the rest.
The Nurses Ball has been a fixture on General Hospital for the past eight years. For a shorter time, the ball has also graced spinoff Port Charles. Of course the writers plan for this event every year - but by extrapolation the characters on the shows also have to "plan" to make the ball happen.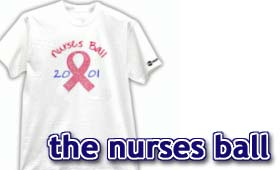 This year the ball hits some unexpected turbulence. Despite the planning, an accident floods the hospital's emergency room with injuries at the same time that the ball is taking place! The audience and performers are forced to ditch the ball and return to their professional duties as doctors and nurses. But that doesn't mean that the show can't go on.
Due to the confusion caused by the accident, those in attendance and no working in a medical field have to step up to the plate and fill in. Here are some of the musical numbers on tap for this year's ball.
Edward, Taggert, AJ, Roy and Mac are forced into performing "The Shoop Shoop Song." Edward actually sings the main vocals while the others "shoop" in the background. Look for lots of pinkish-purple feathers during this number.
GENERAL HOSPITAL

Dara Jensen will sing Over the Rainbow, a song made famous by Judy Garland in "The Wizard of Oz." Vanita Harbour (Dara) will release a CD later this summer. No word on whether or not her soulful rendition of "Rainbow" will appear on the disc.

Nikolas, Lucky and Gia will sing "Up On the Roof."

Luke and Felicia will swing dance and sing a rendition of "Swanee River."
PORT CHARLES

Gabriela makes like Gypsy Rose Lee with a rendition of "Let Me Entertain You."

Victor, Livvie, Alison and Jamal will chirp out "Love Potion No. 9." Originally the crew was slated to do a rap number, but the performers involved decided that something a little more mellow would be an easier go.

The Eighth Annual Nurses Ball airs this week on both General Hospital and Port Charles.