It's a move made by many daytime stars. After a successful run on a daytime drama series, a star looks to broaden his or her horizons. That may involve a jump to a primetime series or even a movie. In the past year, General Hospital has seen several of these jumps. In March, both Steve Burton (Jason) and Sarah Brown (Carly) announced plans to leave the show to pursue other opportunities. A month later, Amber Tamblyn (Emily) gave the show notice that she was planning to depart. These three stars probably won't be the last stars to head off in search of other jobs - and they certainly weren't the first.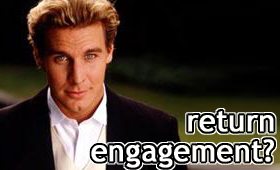 On August 28, 2000, Ingo Rademacher (Jax) left General Hospital, a place he'd called home for nearly four years. Rademacher joined the NBC primetime soap, Titans, a show that was canceled after just a handful of showings. With Titan's cancellation, Rademacher was forced to find other work.
In March, rumors surfaced that Rademacher had once again been spotted on the soap circuit. The Australian-born star was seen at the Days of our Lives studio reportedly testing for a newly created role. A month later came word that Rademacher has been spotted at General Hospital.
ABC did not officially comment on Rademacher's return. In fact, by the time Rademacher had appeared as a presenter at this year's Daytime Emmy awards, the network still had not issued an official statement about his return to the show.
Rademacher's first on-screen appearance will be July 30th.
Some fans are still holding out hope that Vanessa Marcil (ex-Brenda) will be returning to Port Charles in the near future. Marcil remains noncommittal and appears to have no immediate interest in making a return to the rigors of daytime television.