Some two months after Soap Central first reported that Tava Smiley (Chloe Morgan) would be exiting General Hospital, a show spokesperson has finally confirmed that the actress and her character are on the way out.
In a poll conducted on GH Online in late-June, 47% of respondents said that they felt Chloe still had much potential as a character. Compare that to about 23% that felt that Chloe was no longer needed -- or never needed in the first place.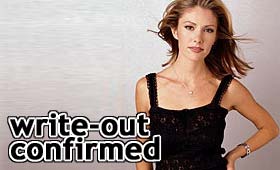 With the return of Ingo Rademacher (Jax) to the show, fans had wondered if Chloe and Jax would rekindle their one-time romance. In addition, Chloe shares a past with Stefan and recently went out on a date with Stavros. With so many gentleman suitors, future romance possibilities seemed endless.
So, as fans hinted in our online poll, why is Smiley leaving the show?
The spokesperson that confirmed Smiley's exit explained that the decision to write out Chloe was a "mutual decision" between show execs and the actress. It is unclear which party approached the other first.
Smiley joined General Hospital in the spring of 1999, hired first-hand by then-executive producer Wendy Riche.
Following are the results of a GH Online poll conducted to gauge viewers' reaction to this story.


Choice
Votes
Approximate %
Yes. The character still had so much potential!
325
47%
Quite frankly, I am surprised Chloe has lasted this long.
126
18%
I'm confused. Why build these relationships if she's on the way out.
116
17%
No. Chloe has been a bore for quite some time.
106
15%
I sense that the role might be recast in the near future.
19
3%
Other
1
0%
Total Votes
693
---