In promotional ads, ABC declares it a day that should never have come. On November 16th, General Hospital's supercouple Luke and Laura Spencer would have celebrated their 20th wedding anniversary. (The original wedding ceremony aired on November 16th and 17th, 1981)
Instead of celebrating twenty years of marriage, the couple is struggling to come to terms with a divorce that was finalized just a matter of days before the would-have-been milestone.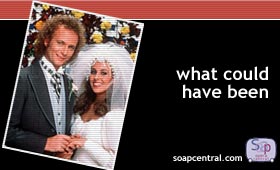 In 1981, Luke and Laura's wedding as a television phenomenon. Newspapers and national magazines covered the event as if it were the marriage of royalty. Perhaps, in a way, it was a royal wedding - daytime royalty. The Spencers wedding was and still is the most watched event in soap opera history. People stayed home from work, college kids skipped classes... all to see Luke and Laura say, "I do."
General Hospital's November 16th episode will include special flashbacks and other memories from Luke and Laura.
In honor of the anniversary of the event, SOAPnet, the all-soap cable channel, will run a special Luke and Laura marathon entitled "Luke and Laura Through the Years." The 12-hour marathon will air on November 23rd. Among the scheduled highlights are the actual wedding day, some memorable moments along the way and the couple's recent decision to divorce. Fans of the ABC soaps need not worry about choosing between the marathon and their current day soaps; all ABC soaps will be pre-empted on the 23rd for college football coverage. Coverage begins at 11:00am Eastern, but check your local listings for the times and channel in your area.