According to published reports and a statement from her publicist, Jensen Buchanan (Melissa Bedford) has been let go from General Hospital.
A report in the NY Daily News says that Buchanan's character will be written out within the next few weeks.
Buchanan's stay in Port Charles is decidedly short considering the turmoil caused when the show announced that she'd be joining the cast.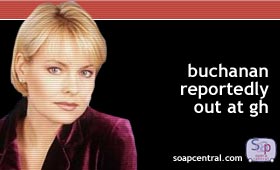 In February, Televest Daytime Programs and Procter & Gamble Productions filed a lawsuit against Buchanan, her agent and ABC for breech of contract. The lawsuit, which was later dropped, hinged on Buchanan's start date on GH. At the time, Buchanan was still appearing in already-taped scenes on CBS's As The World Turns. According to Buchanan's contract, the actress was not to have appeared on a competing program until her stint on ATWT ended.
Buchanan, a wildly popular actress who was twice nominated for a Daytime Emmy for her work as Another World's Victoria Hudson, never quite caught on with GH viewers. Her character was given little definition and her subsequent romance with Roy DiLucca (played by A Martinez) failed to ignite a spark. In fact, Soap Opera Digest recently named Melissa and Roy the "Most Boring Couple" on the soaps.
Buchanan's agent states that the network did not renew the second-year option in Buchanan's contract. Buchanan exits on February 25th.
---