The rumors have been swirling for months -- whether they were right all along or just a case of coincidence and wishful thinking by dissatisfied fans remains to be seen. Megan McTavish has stepped down as head writer of General Hospital.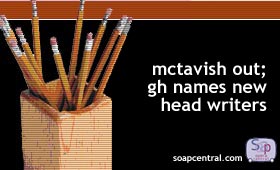 Effective immediately. General Hospital's new scribes will be Charles Pratt, Jr. and Robert Guza, Jr. Fans have already dubbed the new writing team "the Juniors."
This is not the first time that Guza and Pratt have worked together. In fact, the pair has a long list of programs on which they have partnered. Both served as writers on General Hospital in the early 1980s. Together, the team co-created the now defunct NBC soap Sunset Beach. "The Juniors" also wrote together on Melrose Place and Models, Inc.
Guza has already served as top scribe for General Hospital. His previous run at the top ran from December 1995 through June 1996. He later returned in September 1997 before leaving in December 2000. After Guza and co-head writer Meg Bennett stepped down, McTavish was tapped to helm the writing team.
Contrary to online rumors, Jill Farren Phelps will remain -- at least for now -- as the show's executive producer.