Despite rumors to the contrary, Sarah Brown (ex-Carly Corinthos) is not returning to General Hospital.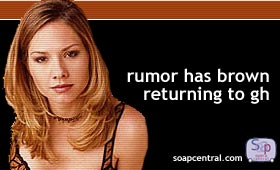 "Not true," reads a statement on Brown's official web site. "Sarah is focused on finding great roles in primetime and film. She misses all her wonderful GH fans, though!"
Brown vacated the role of Carly on April 23, 2001. Brown expressed a desire to focus on other projects as well as an interest in enrolling in film school. Since leaving General Hospital, Brown has appeared in the series Mysterious Ways.