According to online reports, Genie Francis (Laura Spencer) will leave General Hospital when her contract expires later this year.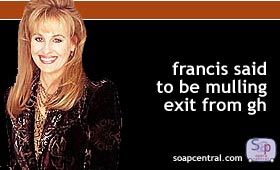 Francis, whose Laura one half of what is arguably the most popular romantic pairing in daytime television history, joined the cast of General Hospital in 1976. Some fans may not realize that Francis is not the only actress to have played the renowned role; Stacey Baldwin created the role in 1974 and played it through 1976 when Francis assumed the part. Francis remained with the show through 1981, returned from 1983 to 1984 and then returned again in October 1993.
Francis revealed last year that she had mulled the idea of leaving the show in April 2001, however, the actress reconsidered when Jill Farren Phelps and Megan McTavish were brought on board as executive producer and head writer.
There has been no official word from Francis or from ABC about the actress' reported interest in leaving the show. However, one source has stated that Francis sent a letter to network execs to inform them of her decision to walk. It is unclear how a departure would affect the show's storylines, including plans for Luke and Laura to remarry.
Inside sources say that Francis might want to make her exit around the time of her yearly summer vacation.