Two months following a Soap Central report that Marisa Ramirez (Gia Campbell) would be exiting General Hospital comes official word that the actress will leave the show next month. The role of Gia will be recast.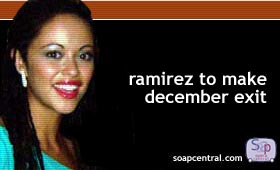 As previously reported, Ramirez has landed a part in a new ABC primetime series called Miracles. The show is just entering production and is planned as a mid-season replacement program for the network. Miracles will also feature Hector Elizondo, of Chicago Hope and various feature films, and Skeet Ulrich of Scream fame.
Ramirez had been pulling double-duty, running from the GH set to the Miracles set. While talk of Ramirez's impending exit swelled on the 'net, her publicist hinted that she would pull double duty. Sources behind-the-scenes at GH, however, had stated that Ramirez would make her exit from the show in October and that the role would not be recast.
Ramirez makes her final appearance on December 4.
Andrea Pearson will assume the role of Gia the following week. Pearson is best known for her role as Priscilla Carter on 7th Heaven. This is Pearson's first forray into daytime television.
Pearson makes her debut on December 9.