As first reported by Soap Central in August, General Hospital is moving forward with plans to bring back Emily Quartermaine -- and the role will be recast.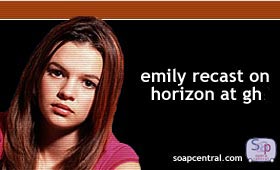 When last seen on-screen in July 2001, Emily was being portrayed by actress Amber Tamblyn. Tamblyn, who created the role in 1995, had opted to leave the show to pursue other ventures. To facilitate the actress' exit, Emily was sent to an off-screen rehabilitation center.
Earlier this year in a message on her official web site, Tamblyn had told fans that she had not be asked to return to the show. However, between the time that rumors of Emily's return to Port Charles first surfaced and the time it actually came down to bringing her back into the story, GH execs did make contact with the actress. When approached tp reprise her role on the show, Tamblyn was reportedly unable to commit to the work schedule the show would require.
"[T]ruthfully, it's selfish of me [to want] my cake and eat it too," admitted Tamblyn. "I probably shouldn't complain if I'm not even available for the amount of time they would need me for."
So far there is no immediate word on any actresses that are being considered for the role nor has a first airdate been announced.