In an usual move, a General Hospital performer that had been taken off contract has been bumped back up from recurring status. Long-time GH veteran John J. York (Mac Scorpio) has been given another long-term contract with the show.
"I don't know what is going to happen," York says, "but I can't wait to find out."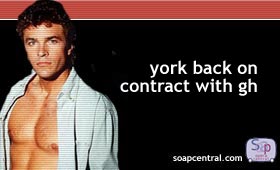 In November 2001, after ten years with General Hospital, York was taken off contract. The move came amid rumors that a planned crossover storyline between All My Children – where York's former co-star Finola Hughes was portraying her GH character Anna Devane – had fizzled out.
"I'd be lying if I said said I wasn't very disappointed," said York in a statement. "But that's as negative as I'm going to get. I have oh so much to be thankful for. I've been playing Mac Scorpio for [ten] years now [and] I was told that I would be allowed to continue to play Mac Scorpio.
Now, York has been bumped back up to contract status. The status change comes as fellow man in blue Real Andrews (Marcus Taggert) announced his plans to leave General Hospital. The move has also bolstered some Internet fans' claims that Finola Hughes will return to General Hospital later this year. Chatter of Hughes' "impending" return to her former soap has been running rampant for months. A spokesperson for ABC states that Hughes is a contract player with All My Children.