Contract talks between Coltin Scott (Nikolas Cassadine) and General Hospital have broken off and Scott will leave the show when his contract expires this summer.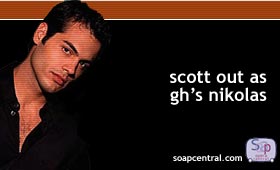 Scott joined the cast of General Hospital in 1999, assuming the role from Tyler Christopher, who had created the role of Nikolas in 1996.
According to Scott's manager, the actor and show reps were unable to come to an agreement on the financial aspects of Scott's new contract. The financial terms were not disclosed by Scott's camp and a spokesperson for ABC declined to comment.
"Coltin, of course, is very upset at the turn of events," reads a message on the actor's official web site.
Scott will pursue opportunities in primetime as well as feature films.
In an odd twist, Tyler Christopher will return to General Hospital to take over once Scott makes his exit.
"The original actor became available, and it was an opportunity we didn't want to pass up," says GH executive producer Jill Farren Phelps. "Coltin has done a great job and we wish him all the best."
A final airdate for Scott was not made available, nor was a return date for Christopher.