There are online murmurings that General Hospital may be recasting the role of Felicia Jones in the near future.
The role was vacated earlier this year when Kristina Wagner left the show following a nearly twenty-year run. The actress cited a lack of on-air time as one of the reasons for her decision to bolt.
"It was an amicable split," states a General Hospital spokesperson. "She wanted to pursue other projects, and we wish her all the best."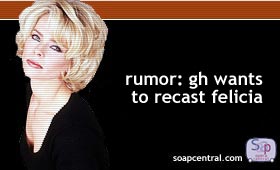 Shortly after Wagner's exit, her real-life husband Jack Wagner (ex-Frisco Jones) signed onto CBS's The Bold and the Beautiful, where he is currently playing the role of Dominick Payne. Jack Wagner's addition to the B&B cast prompted rumors that wife Kristina might soon be joining him. According to B&B's executive producer and head writer Bradley Bell, the timing of Jack's entrance and Kristina's exit were "just a coincidence."
In March, General Hospital execs placed actor John J. York (Mac Scorpio) back on contract, raising some to question that his former wife, Felicia, might also be headed back to a more prominent role in the show. But with Wagner out, the role would more than likely have to be recast.
An ABC spokesperson declined to comment on the reports, stating that it is not network policy to comment on rumors.