Fan-favorite Jane Elliot (Tracy Quartermaine) is headed back to Port Charles -- and this time it's for more than just a few appearances. ABC has now confirmed that the Emmy-winning actress has been signed to a long-term contract with General Hospital.
Elliot made her General Hospital debut in 1978 as the rich, spoiled daughter of Edward and Lila Quartermaine. Elliot left General Hospital in 1980 after winning an Outstanding Supporting Actress Daytime Emmy before eventually returning for another stay in Port Charles in 1989.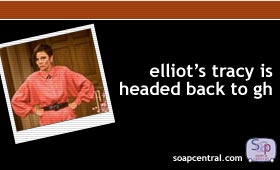 During her time away from General Hospital, Elliot didn't stray very far from the watchful eyes of daytime viewers. From 1981 to 1982 the actress appeared as Carrie Todd Marler on CBS's Guiding Light. Elliot then joined the cast of All My Children as Cynthia Chandler from 1984 to 1986 before jumping to the role of Anjelica Deveraux on NBC's Day of Our Lives between 1987 and 1989.
Once back in Port Charles, Elliot's Tracy returned to her troublemaking shenanigans - but again only for a short time. Elliot again left General Hospital in 1996. A brief return in 1996 was meant to spur interest in the ABC soap The City, where Elliot took her GH character long before Linda Dano's Rae Cummings made her soap-hopping stints on the ABC Daytime lineup. The City's run was short-lived and Elliot's character remained on the show only until March 1997.
Tracy kept a low profile until earlier this year when she returned to Port Charles as a means of introducing her son Dillon - who also appeared on The City -- back to the canvas. After a handful of episodes, Tracy again left town.
It is unclear if General Hospital's writers will in any way revisit Tracy's past from the now-cancelled The City, where Tracy married into the mob and later became the head of the Soleito crime family.
"I'm very, very excited about [returning to] GH," said Elliot of her return.
Elliot makes her return on November 13th.
Are you happy Jane Elliot is returning to GH? We want to hear from you -- and there are many ways you can share your thoughts.