Long-time General Hospital veteran, Anna Lee (Lila Quartertmaine) has been taken off contract. While being taken off contract usually equates to real-world terms of being fired, a spokesperson for ABC states that the actress will still be seen on a recurring basis.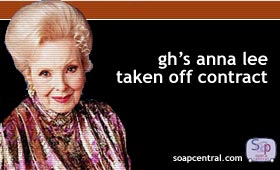 For the past 25 years, Lee has portrayed the beloved matriarch of General Hospital's Quartermaine family. The news that she'd been taken off contract is said to have come as a surprise to the 90-year-old actress. Through her agent, Lee states that she believed she'd had a lifetime contract with General Hospital, a lifetime contract that was negotiated under former executive producer Wendy Riche.
"There is no such thing as a lifetime contract," refutes a spokesperson for ABC Daytime.
While Lee will no longer be a contract player, ABC insists that this does not mean that the actress or her character will be written off.
"Anna Lee has been a beloved cast member of General Hospital for many years, and it is our intent to continue to use her in a recurring role as Lila Quartermaine on the show as story needs may dictate," said the network in an official statement.

RELATED STORYSon says he fears Lee's demotion will kill her