Fans of General Hospital are about to see massive on-screen changes at the show. Just a few weeks after the dismissal of beloved veteran Anna Lee's (Lila Quartermaine) firing comes word that more firings are on the way.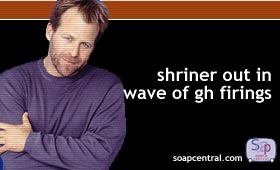 Long-time veteran General Hospital performer Kin Shriner (Scott Baldwin) has been let go. The actor, whose contract was set to expire in early 2004, believed that he was going to renegotiate the terms of his contract with the network. As it turns out, there was reportedly no interest on the networks' part in hammering out a new contract.
Shriner debuted in the fictional town of Port Charles in 1977. Shriner's character became part of a popular on-screen coupling with actress Genie Francis' Laura Webber. However, the couple was split up with the arrival of Anthony Geary (Luke Spencer) - and the advent of what would become arguably the most popular couple in daytime television history.
Shriner left General Hospital in 1980, returned for another engagement from 1981 to 1984 and then left again for a more lengthy period of time before returning in 1988. He later returned to the show for a brief appearance in 1993. In 1997, Shriner again returned to the town of Port Charles - but this time on the GH spinoff, Port Charles. For the next four years, Shriner remained primarily on the fledgling Port Charles, but did make occasional visits to General Hospital as required by storyline. In March 2001, Shriner returned to General Hospital on a full-time basis.
A final airdate has not yet been determined for the actor. An ABC spokesperson declined to comment on the reports of Shriner's dismissal.