In a stunning development, Emmy winning actress Lesli Kay (Molly McKinnon, As the World Turns) will soon be exiting CBS's As the World Turns and heading west to play General Hospital's Lois Cerullo.
According to a statement issued by the show, Kay wanted to relocate from New York in order to be closer to her family.
"In consideration of the needs of her family, Lesli Kay expressed the desire to relocate to Los Angeles," As the World Turns executive producer Chris Goutman said in a statement. "When the opportunity at General Hospital arose, we chose not to stand in the way. Lesli Kay has served As the World Turns with the utmost professionalism and enthusiasm for the past seven years. We wish her and her family nothing but the best."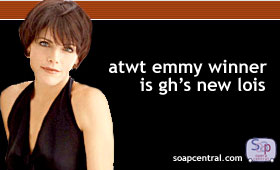 In recent published reports, it had been hinted that General Hospital had all but given up on finding an actress to play Lois. According to insiders, the show had auditioned several former soap for the role, including Lisa LoCicero (ex-Jocelyn, The City/Loving) and Alicia Coppola (ex-Lorna, Another World). However, for one reason or another, none of the actresses who tried out for the part were quite right for the role.
Some fans were vocal when it was revealed that Rena Sofer had not been asked to reprise the role of Lois. Sofer originated the role in 1994 and remained with the show through 1997. However, Sofer revealed that despite statements of interest from co-head writer Charles Pratt, Jr., she had not been asked to return to the show.
Kay joined the cast of As the World Turns in May 1997. In 2001, Kay earned a Daytime Emmy for Outstanding Supporting Actress. Though the CBS soap is Kay's only television experience in a starring role, the actress does have extensive movie and theater experience under her belt.
A final airdate for Kay on As the World Turns comes July 2nd. Meanwhile, an ABC spokesperson reveals that Kay will debut on General Hospital on June 10.
In related news, Adrianne Leon has been cast in the role of Lynn (a.k.a Brooklyn), the daughter of Ned and Lois. June 1st is her first airdate.
Photo Credit: ABC
---

RELATED STORY
Lois to return to GH -- but Rena Sofer won't.
---