Katie Stuart (Sage Alcazar) and Catherine Wadkins (Mary Bishop) have been let go by General Hospital. Final airdates have not yet been released by the network.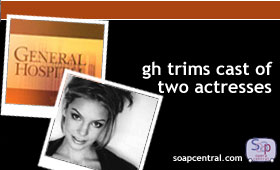 Stuart originally appeared on General Hospital as a very blonde Cynthia Harris. The role was recurring and lasted exactly two months - September 5th through November 5, 2003. GH's casting department was reportedly so pleased with Stuart's work that she was asked back to audition for the contract role of Sage Alcazar. After landing the role, Stuart then returned to the show one month later as a brunette.
In a published interview, Stuart admits that being let go was "hard," but says that she will now focus on her education and auditioning for other projects.
Stuart filmed her final scenes on August 3rd. A final airdate for the actress has not yet been revealed.
Meanwhile, a show spokesperson has confirmed that Wadkins is also on her way out. Wadkins joined the show in March 2004 and her character became a foil in the popular romance of Emily and Nikolas.
A finale airdate for Wadkins has also not been released.