Though an ABC spokesperson declined comment, whispers are getting louder in some General Hospital circles that three of the show's veteran performers are on their way out the door.
In spite of insistence by ABC Daytime President Brian Frons that General Hospital wants to refocus on its core characters and families, there are reports that Leslie Charleson (Monica Quartermaine), Stuart Damon (Alan Quartermaine) and Jackie Zeman (Bobbie Spencer) are about to be taken off contract with the show.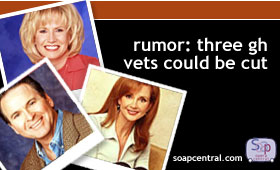 At least one published report claims that the Zeman's days are numbered. The report says that Zeman will be taken off-contract at the end of the current cycle, which would come in mid-to-late-September. The actress would be asked to appear on a recurring basis, according to the report.
Meanwhile, fans of Charleson and Damon have established a web site to help petition "the powers that be" at the network to bump up the pair's on-screen presence. The campaign started by the Quartermainia web site, has adopted an election year theme. Fans can print out Monica and Alan postcards that can be then mailed to everyone from Frons to the actors themselves as a showing of support. As an added bonus, fans are also able to download free desktop images for their personal computers.
Zeman, Charleson, and the Emmy-winning Damon all joined the General Hospital canvas in 1977 and have amassed 81 cumulative years of show history between them.
A spokesperson for ABC reminded Soap Central that it is not network policy to comment on rumors and said that all three performers remain "a part of the show."