Could General Hospital's Aussie heartthrob be headed out of Port Charles? No one's saying, but in a recent interview, Ingo Rademacher (Jasper Jacks) hinted that he'd gladly trade in the hustle and bustle of his Hollywood life for relaxing time on a ranch Down Under.
"I am burnt out," Rademacher told the Australian publication The Sunday Mail. "All I have done in the last 10 years is go to work."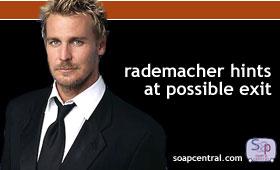 Technically, Rademacher hasn't quite been with the show for a full ten years. Rademacher made his debut on General Hospital in 1996, but exited the show in 2000 for a role on the short-lived primetime soap, Titans. After Titans was cancelled, the actor returned to General Hospital in August 2001 and has been with the show ever since.
Rademacher reveals that when his contract expires next year, he wants to return to Australia and buy a farm or to make some films with what he calls "meaning." The article also estimates Rademacher's salary at around $1.5 million per year.
"I don't know if I want to stay in America, it's very corporate," the actor revealed. "I do want to have a farm where I can just veg out."
Rademacher's exit certainly isn't written in stone. Like Rademacher, everyone can relate to the feeling of being burned out so it may just be that he needs an extended vacation from the show.
An ABC spokesperson declined comment for this article.