After months of speculation and countless rumors, a spokesperson for General Hospital has confirmed that Emmy winner Maurice Benard (Sonny Corinthos) has re-signed with the show.
"Maurice has re-signed," states a GH spokesperson, "and he will be around for a long time."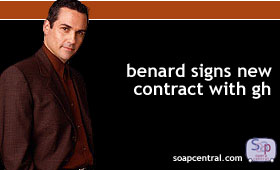 Benard joined the cast of General Hospital in August 1993 and remained with the show through September 1997 before taking a one-year break to pursue other projects. He returned to General Hospital in December 1998 and has been with the show ever since. It had been considered very possible that Benard would again walk at the end of his current contract.
During his time at General Hospital, Benard has earned four Daytime Emmy nominations - a Supporting Actor nod in 1997 and three Lead Actor nominations in 1996, 2003 and 2004. In 2003, Benard's nomination turned into Emmy gold when the actor won what many considered to be a long overdue Emmy victory.
As mentioned previously, Benard has been the subject of much chatter during his contract negotiations. Rumors that Benard's General Hospital co-stars were unhappy with show executives' decision to place his photo first in the show's new opening credits raced like wildfire through printed publications and Internet web sites. Other gossip had Benard taking what would amount to a three-month break from the show while he decided whether or not to re-up his deal with the show.
Indeed, though, Benard is taking a break from the rigors of daily GH tapings. Benard, who has been front burner since his return to General Hospital six years ago, will most likely take a break during the month of December to spend time with his wife, Paula, who is due to give birth to