Would you like to see GH recast the role of AJ Quartermaine?


Yes. Sean Kanan is available and he'd be great as AJ.
40%
No. Get rid of AJ. The writers were right to 'kill' him.
28%
No. ABC needs to find a way to get Billy Warlock back.
12%
I don't really care what GH decides to do with AJ.
8%
Not right now. I don't think there's a need for him now.
7%
Yes, but I think a new actor should be given the role.
5%
Other
1%
Poll Posted: February 14, 2005
Some General Hospital fans have been left scratching their heads with the announcement that NBC's
Days of our Lives
has signed
Billy Warlock
(
AJ Quartermaine
) to a contract. [See
Warlock returning to DAYS after 14-year hiatus
]
Warlock has been a topic of discussion for fans of ABC's General Hospital for some time. His exit from the show in December 2003 was mired with speculation that the actor had not left the show of his own volition. Gossip claimed that Warlock and show executives, specifically executive producer Jill Farren Phelps, had gotten into a verbal altercation. The claims were quickly denied - as were other claims that Phelps and other GH stars had gone at it. Warlock's exit from the show was officially chalked up to a lack of storyline.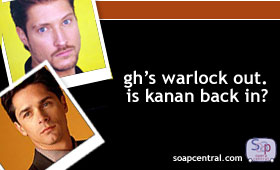 Earlier this year, however, Warlock was again the subject of message board chatter. Just a few days after ABC announced that Warlock would be reprising the role of AJ Quartermaine came word that he might not be returning to General Hospital after all. Insiders say that Warlock was open to the idea of returning, but rebuffed the network's first contract offer. The two sides eventually reached a deal and Warlock made his first on-air appearance on February 4th.
In a style that had prompted conspiracy theories among some fervent GH fans, former AJ,
Sean Kanan
(
Deacon Sharpe
,
The Bold and the Beautiful
), recently announced that
he and The Bold and the Beautiful would be parting ways
. Kanan had been with CBS soap for over four years. Kanan's decision to exit his B&B role and Warlock's re-hiring by DAYS came at about the same time. [See
Kanan announces he will leave B&B role.
]
Kanan portrayed AJ Quartermaine for four years from 1993 through June 1997. Three days after his final on-screen appearance, Warlock took over the role.
As expected, an ABC spokesperson had no comment about Warlock's exit or the speculation that Kanan might be wooed back to reprise the role of AJ. Soap Opera Central was reminded that it is not network policy to discuss actors' contracts or Internet gossip.