The audition process is over and General Hospital has found its new Carly Corinthos. Less than one week after Tamara Braun exits the role, actress Jennifer Bransford will step into Carly's shoes.
As previously announced by Soap Central, Tamara Braun has opted not to renew her contract with General Hospital. The news came as a surprise to some fans and devastated others. Braun expressed a desire to take on new roles rather than playing the same character for years on end.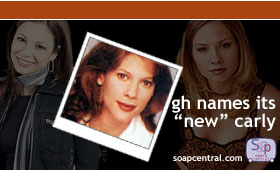 Branson, meanwhile, joins the General Hospital cast as a veteran of ABC's daytime lineup. From 1997 to 1998, Bransford appeared as Georgie Phillips on One Life to Live. The actress also has feature film experience, with roles in the horror flick series Witchcraft, Love Thy Neighbor, and in the romantic comedy Love Bites.
General Hospital executive producer Jill Farren Phelps admits that following Braun will be a difficult task. However, Phelps insists that the show will go on.
The audience, says Phelps, "will eventually accept a new Carly, especially if Maurice [Benard] is determined to make it work."
Phelps points out that many questioned if Braun could win over fans after she assumed the role for Emmy winner Sarah Brown in 2001. Oddly, all three actresses to play the role will now have had last names start with "B-R."
In landing the role of Carly, Bransford is rumored to have beaten out Jamie Lunar and soap vet Sarah Buxton.
Braun will last air on April 15th. Bransford makes her first on-screen appearance just three days later, on April 18th.
Former Carly, Sarah Brown, exits ATWT amid "hate mail" from viewers.