ABC has now confirmed that Emmy winner Lesli Kay (Lois Cerullo) has been taken off contract with the show. The announcement puts to rest months of speculation regarding the Emmy-winning actress' status with the show. A spokesperson asserts, however, that Kay will continue to make appearances on the show.
The rumors that Kay's exit was imminent first surfaced in February when long-time General Hospital veteran Wallace Kurth (Ned Ashton) was downgraded to recurring status. His "firing" led to speculation that some other stars may too find their way off the canvas in the weeks ahead.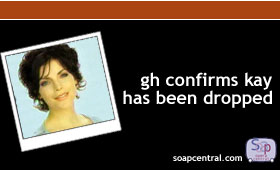 At the time, Kay seemed to be the one star who was most singled out as the next potential cast cut. According to a setside source, the actress has been unhappy with her lack of story. In fact, in recent weeks Kay has rarely seen any on-screen time.
Sources tell Soap Central that Kay has even gone as far as to approach executives at As the World Turns to inquire about a possible return to the show she left in May 2004 in order to pursue her role on General Hospital. For her work on the CBS soap, Kay earned an Outstanding Supporting Actress Daytime Emmy in 2001.
Kay joined the cast of General Hospital in June 2004. A spokesperson for General Hospital says that Kay "will continue to be used as storyline dictates."
---

RELATED STORY
Former Carly, Sarah Brown, exits ATWT amid "hate mail" from viewers.
---