By now nearly ever Internet user knows of the implicit technological perils of using the Internet -- viruses and scams. But many of those same users that surf the web on a regular basis are not fully aware of some of the other dangers that are lurking out there -- dangers like disinformation.
Over the past few days, posts on messages boards across the 'net have stated that actress Jennifer Bransford (Carly Corinthos) has been let go from General Hospital. While an ABC spokesperson has declined to issue an official statement - Soap Central was reminded that is not network policy to comment on rumors -- that hasn't stopped the rumor mill from churning at full steam.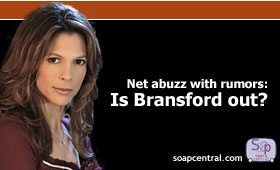 On a web site purported to be Jennifer Bransford's official web site, a message informed fans that Bransford was on her way out.
"The rumors you may have heard are true," read a message on the site's main page. "We have confirmed that they are in fact going to try to recast the role of Carly."
Later, however, the site seemed to backpedal away from their statement. The information regarding Bransford's dismissal, the site announced, "was 100% accurate as of this morning/early afternoon [August 31]. Some people are now saying that Carly is not being recast, which if that is true, it must have changed over the course of the day."
Meanwhile, other fledgling sites are trumpeting their "unnamed sources" as having confirmed the news. Still others are urging fans to flood the network with fan mail urging the network to rethink its apparent plans to ditch the actress.
Some web sites have gone on to claim that ABC had gone as far as to lure back the previous Carly, Tamara Braun; making her "an offer she couldn't refuse." Braun exited General Hospital in April to pursue a career outside of daytime television.
Other sites say that the role has been recast, but no names were mentioned for Bransford's replacement.
It should be noted that some fans of General Hospital have been extremely critical and often times downright cruel when it comes to Bransford's work. It is this hostility that also lessens the credibility of online reports of Bransford's status with the show.
Obviously the vagueness of the so-called reports also makes believing the stories difficult at best. Soap Central has received several emails from persons identifying themselves as "insiders," but these claims remain unsubstantiated. While some of these so-called "accurate" stories may, in the end, turn out to be true -- it doesn't necessarily confirm that these sites provide truly accurate information. Many sites simply put out theories, hoping that they will eventually end up being true. Sooner or later, these sites are bound to get at least one story right.
As previously noted, an ABC spokesperson has declined to comment on the rumors of Bransford's release from General Hospital.
Photo Credit: Dan J Kroll/Soap Central