Jennifer Bransford is out as GH's Carly. What's your immediate reaction?


I'll only be happy if Tamara Braun returns as Carly.
34%
What poor timing. I was just warming up to Bransford.
19%
I'm upset. I thought Bransford was doing a really good job.
15%
I'm relieved. I wasn't really a fan of Branford's work.
11%
I'll only be happy if Sarah Brown returns as Carly.
7%
I think it's time to just write Carly off the show.
6%
Other
3%
I don't really have an opinion about Bransford's exit.
3%
I'm excited by the rumors that Laura Wright might be cast.
2%
Poll Posted: September 11, 2005
After only five months in the pivotal role of General Hospital's
Carly Corinthos
, actress
Jennifer Bransford
has been let go. As first reported last week by Soap Central, rumors of the actress' status with the show have been circulating for some time.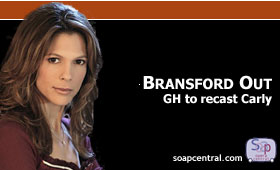 Bransford joined the cast of General Hospital in April, taking ove the role of Carly from the wildly popular
Tamara Braun
. Some fans of Braun were extremely critical of Bransford and expressed their often times cruel views of Bransford and her work as often as possible. Going into the role, Bransford, however, knew that winning over fans would be a challenge.
In somewhat of an ironic twist, fans seem to have been warming up to Bransford in recent weeks.
As of our original "post time," ABC had yet to issue a formal statement regarding Bransford's dismissal. Since that time a spokesperson has weighed in with an explanation on the recast.
"Jennifer's casting in the role of Carly did not work out," said a GH spokesperson without offering any additional details. "She is a consummate actress and she's good at what she does. We wish her all the best in her future endeavors."
As soon as the news of Bransford's exit broke, some web sites claimed that ABC had lured back the previous Carly,
Tamara Braun
by making her "an offer she couldn't refuse." Braun
exited General Hospital in April
to pursue a career outside of daytime television.
Meanwhile, outgoing Guiding Light star,
Laura Wright
(
Cassie Winslow
) was said to be on the short list of possible new Carlys. At the time, on her official web site, Wright said she "cannot officially say anything" at this time. [
Click here for more
]
Bransford's last day of taping was September 9th. She will make her final on-screen appearance on October 5th.