Though an official announcement from ABC was still pending at the time, Soap Central broke the news last week that Laura Wright (Cassie Winslow, Guiding Light) will join the cast of General Hospital later this year in the role of Carly Corinthos. The network has since confirmed that Wright will join the GH cast.
Wright's name had been bandied about as a possible replacement for the outgoing Jennifer Bransford for several days. Speculation really heated up when Wright announced that she would be exiting Guiding Light after seven years. Bransford was let go last week after five months with General Hospital.
"Carly is a complex character, and we are excited to bring Laura's talent, beauty and intelligence to this role," said ABC Daytime president Brian Frons in a statement. "Fans can look forward to high drama between Sonny, Carly and Alcazar this fall."
In a statement on her official web site, Wright admitted to exuberantly accepting ABC's offer to take over the role of Carly. However, the actress admits that in order to move on, it meant having to make the difficult decision to leave behind a Guiding Light character that she had played for the better part of a decade.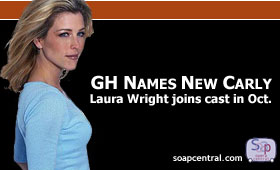 "As sad as I am to leave a wonderful place that I called home for a long time, it is time for me to go," Wright said. "This was not an easy decision. But my husband and I talked about it and we said, 'What the Hell! Let's live on the West Coast for a few years!'"
Wright will become the fourth actress to tackle the role of Carly. Sarah Brown originated the role in April 1996 and remained with the show April 2001. Upon Brown's decision to pursue other opportunities, Tamara Braun joined the cast. Braun's run as Carly lasted from May 2001 through April of this year. Like Brown, Braun wanted to seek out opportunities outside of daytime television. After what was said to be an "exhaustive" search for a successor, Bransford joined the cast on April 18, 2005. Her last day with the show was September 9th and her final airdate is still pending.
"I'm also so excited to play this character," Wright beamed. "Wow! What a challenge."
The challenge Wright speaks of presented itself to Bransford - and may have been impossible for her to overcome. There is a large group of fans loyal to actress Tamara Braun who are admittedly still upset that the actress left the show. Upon making the announcement that Bransford had been let go by General Hospital, Soap Central was flooded with email encouraging us to consider rehiring Braun. Soap Central, of course, has no influence in casting matters at ABC or any other network. Bransford's work and physical appearance were viciously picked apart by some GH fans. While Braun had some difficulty in assuming the role of Carly from multiple Emmy winner Brown, the resistance facing Braun was far less intense.
"I know so many of the GH fans loved the past actresses who played this part. I know I have big shoes to fill," Wright said in extending an olive branch to fans. "I hope I make you proud."
This will be a return to ABC for Wright. The actress played the role of Ally Prescott on the network's Loving and later on The City from 1991 to 1997.
Wright will begin taping her General Hospital scenes in October upon the expiration of her Guiding Light contract. According to setside sources, the character of Carly will see some off-screen time in order to accommodate Bransford's exit as nearly a month will pass between Bransford's final taping and Wright's first tape date.
Wright first airs as Carly on November 4th.