With Alicia Leigh Willis (Courtney Matthews) having taped her final General Hospital scenes last month, the countdown to the actress' final appearance is winding down. The fate of her on-screen persona, however, remains very much up in the air.

"I will be leaving the role of Courtney at the end of the year," Willis said in a statement back in October 2005. "It has been a great four years, and it was not an easy decision. ABC has been wonderful to me, and so have all of the fans and friends I have made."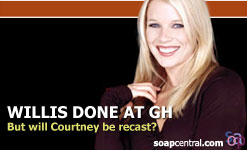 Talk immediately began about who might succeed Willis in the role of Courtney. The front-runners, according to insiders and other chatter, were former Port Charles star Erin Hershey Presley (ex-Alison Barrington) and then-recently-released The Young and the Restless star Lauren Woodland (Brittany Hodges).

Even ABC Daytime President Brian Frons got in on the action, saying, "Erin Hershey Presley would be a groovy Courtney."

With each passing week, however, it appeared less and less likely that either of the two apparent front-runners would be joining General Hospital any time soon. And now comes word that ABC might not recast the role of Courtney after all.

Woodland confirmed that there was "some initial interest" by ABC for the General Hospital role, but that talks soon broke down. The actress was surprised when some Internet web sites and a prominent soap magazine proclaimed that she had signed a contract with ABC.

Presley was also contacted by ABC, but talks there have also reportedly come to a grinding halt. Presley was also previously rumored up for a role on CBS's The Bold and the Beautiful.

Willis taped her final General Hospital scenes on December 23rd. Those scenes should air near the beginning of February.