Citing a "viral pandemic of discriminatory conduct," actress Kari Wuhrer (ex-Reese Marshall) has filed a lawsuit against American Broadcasting Companies, Inc ("ABC"), accusing the network of firing her from her role on General Hospital after she revealed that she had become pregnant. The lawsuit also contends that ABC has, in the past, pushed other actress off its daytime shows after they had become pregnant and that the network fabricated fan feedback in order to justify its decision to release Wuhrer, 38, from her contract.

Details of the suit were first reported by TMZ.com.

In the lawsuit, filed January 12th in Los Angeles County Superior Court, Wuhrer is seeking recovery of "lost wages, salary, earnings, bonuses and other economic benefits ... believed to be in excess of a million dollars." In addition to lost wages, Wuhrer is also seeking punitive damages "in excess of a million dollars."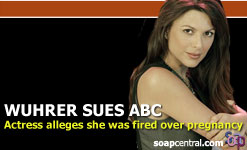 According to papers filed in the lawsuit, "In the middle of August 2005, Wuhrer learned that she was pregnant. She sought to provide the General Hospital writers and producers with as much notice as possible to plan around her pregnancy. The producers specifically told her, 'don't worry... you won't be fired.'"

"Two weeks after Wuhrer informed General Hospital that she was pregnant," the suit continues, "a producer gave Wuhrer a purported 'tracking report' from ABC. This report alleged that Wuhrer was not 'sexy,' and that there was no chemistry between her character, Reese, and her character's love interest, Sonny Corinthos."

Prior to learning of her pregnancy, Wuhrer contends that dhow executives -- including GH executive producer Jill Farren Phelps and co-head writer Charles Pratt Jr. -- had praised her work and told her that she had a bright future with General Hospital. Led to believe that she would be around for the remainder of her four-year contract, Wuhrer states that she purchased a new home

Wuhrer's lawsuit goes on to allege that ABC also dismissed Lesli Kay (ex-Lois Cerullo) because she, too, has become pregnant.

At "post time" Kay's agent was unavailable for comment.

In her claim, Wuhrer references a 1997 lawsuit in which Hunter Tylo (Taylor Forrester, The Bold and the Beautiful) was awarded a nearly-$5 million ($4 million for emotional distress and $894,601 for economic loss) verdict against Spelling Entertainment Group and Spelling Entertainment Television. Tylo's lawsuit alleged that she had been fired from Spelling's primetime drama, Melrose Place, because she was pregnant. Though Tylo had been hired for the primetime soap, she never appeared in a single episode.

In total, Wuhrer's lawsuit alleges eight actionable wrongs committed against her by ABC: sex discrimination, pregnancy-based discrimination, wrongful termination, failure to provide reasonable accommodations for pregnancy, promissory estoppel, fraudulent concealment, negligent misrepresentation and intentional infliction of emotional distress.

Until being officially served, ABC had no comment. After being served, the network issued the following statement, "ABC Daytime has a clear track record of working with actresses on all of its programs to continue their employment during pregnancy. The decision to eliminate Ms. Wuhrer's character on [GH] was made for legitimate creative reasons, was consistent with her contract and was not motivated by her pregnancy."