ABC is once again turning back the General Hospital clock as another wildly popular character from the 1980s returns to Port Charles next month. Award-winning actress Emma Samms returns to reprise the role of Holly Sutton Scorpio beginning in late-February.

"In addition to bringing exciting stories to our audience, we strive to make use of the rich history of General Hospital, and we are thrilled that an accomplished actress like Emma will be returning to reprise such a legacy character, " ABC Daytime president Brian Frons said in a statement.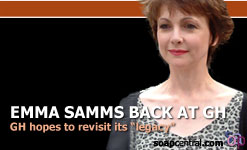 It has been over a decade since Samms last appeared on General Hospital and nearly 24 years since she first made her debut.

"I'm so thrilled to be visiting Port Charles again. Among the many jobs I've had over the years, General Hospital has always been close to my heart. I'm so looking forward to seeing a lot of dear friends, in front of and behind the cameras. And, as for the scene when Holly and Robert meet again, I will definitely tune in for that!," adds Ms. Samms.

With the announcement earlier this month that Tristan Rogers (Robert Scorpio) would be returning to General Hospital, rumors began circulating that another prominent character from General Hospital's past would also be returning to the screen. Most rumors focused on another of Robert Scorpio's wives - Anna Devane, played by Emmy-winner Finola Hughes.

After leaving General Hospital in 1985, Samms went on to appear on the primetime soap, Dynasty, and later starred in the Dynasty spin-off, The Colbys. In addition to her soap-related work, Samms has appeared in numerous made-for-television movies and guest-starred on countless primetime series.

Samms makes her General Hospital return on February 20th -- a date that coincides with the airing of the 11,000th episode of the show. Her return is currently slated to last about four to six weeks.