Would you like to see Emma Samms return to GH in the future?

Yes. It was great seeing her again. Next time she needs to stay longer.
56%
No. I think this one-time return was a great nod to long-time viewers.
23%
I can think of other 'legacy characters' I'd rather see than Holly.
16%
Honestly, this return was not well conceived. So I will have to say no.
3%
I'm not sure. I guess it depends on the circumstances.
1%
I have no opinion about Emma Samms' possible return to GH.
0%
Other
0%
Poll Posted: February 27, 2006
Emma Samms
' (
Holly Sutton
) whirlwind return to General Hospital has concluded. It seems like it's been only a matter of a few days since her first on-screen appearance, but now comes word that the actress has already taped her final scenes for the ABC soap.
Samms' return earlier this month was part of a much-hyped return of what ABC Daytime President Brian Frons called "legacy characters." The term was used to describe characters who were part of a show's so-called golden age, but have long been absent from the canvas.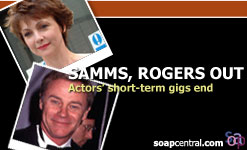 "I'm so thrilled to be visiting Port Charles again," Samms said in announcing her return to General Hospital. "Among the many jobs I've had over the years, General Hospital has always been close to my heart."
Samms' return on February 20th marked her first appearance on General Hospital in more than a decade. Her "sudden" departure is nothing unexpected; her return engagement was scheduled to only last four to six weeks. It is unclear if the actress will could return in the future.
Samms taped her final General Hospital scenes on February 8th. Those scenes will air of February 28th. Her exit will also coincide with the exit of another GH "legacy character," Robert Scorpio, played by Tristan Rogers. Rogers makes his final on-screen appearance on March 1st.
It is unclear of Samms will return to General Hospital in the future, but the actress has expressed an interest in returning. As for Rogers, a setside source hints that Rogers will be back by the end of March for another short-term engagement.
An ABC spokesperson did not return requests for comment.