Rumors persist that Finola Hughes (Anna Devane) will be returning to General Hospital later this year. The rumors have been compounded by the show's decision to have Tristan Rogers (Robert Scorpio) return later this month.
Talk of Hughes' "impending" return first started making the rounds earlier this year when a GH source hinted that the show was going to be bringing back on of Robert Scorpio's wives. Conventional wisdom had many believing that Hughes would be the obvious choice, but "the powers that be" shook things up be opting for Emma Samms (Holly Scorpio) - another of former Mrs. Scorpio -- instead.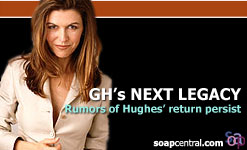 But that hasn't stopped the rumors.
For her part, Hughes has been tight-lipped about her supposed talks with ABC about returning to GH. Meanwhile, Hughes' on-screen daughter, Kimberly McCullough (Robin Scorpio) has admitted to trying to talk her pal into giving a GH return some consideration.
Hughes' most recent daytime appearance wasn't on GH, but rather on GH sister-soap, All My Children. In a crossover, Hughes took her GH character to Pine Valley from March 2001 to September 2003. During Hughes' stint on All My Children, McCullough also made a three-day guest appearance. Hughes last set foot in Port Charles in 1992.
As previously reported by Soap Central, Rogers will be returning again this spring. Rogers' return to General Hospital for the mystery virus storyline provided General Hospital with a nice ratings boost. This time around, the show's writers will reportedly try to patch up Robert's strained relationship with his daughter. However, there is talk that there might also be a romance on the horizon for Robert.