Former General Hospital star John Ingle (ex-Edward Quartermaine) will be returning to the show this spring. The casting move will bring the actor back to the ABC after a two-year break in which he starred on the NBC soap Days of our Lives.
"We were so fortunate that John Ingle was available to us at a time when we were desperate to fill story and were dealing with the departure of John Clarke," says Days of our Live executive producer Ken Corday. "We have loved having John here, both professionally and personally, but we know a big part of his heart and history is with General Hospital. Our loss is certainly GH's gain and we wish John nothing but continued success. He will truly be missed!"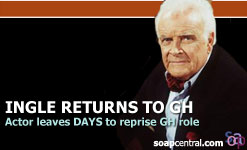 Ingle exited General Hospital in 2004 as network execs played fast and loose with his contract status. As 2003 drew to a close, ABC announced that Ingle would be bumped from his contract role and put on recurring status due to a lack of story. Ingle's fan base was outraged and flooded the network with letters, email and phone calls. A few weeks later the network reconsidered, saying that a storyline had been created that would allow Ingle to be put back on contract.
"Whenever a storyline is created for one of our characters, the script and the show's canvas constantly evolve," said a show spokesperson at the time. "As such, the role of Edward Quartermaine - so perfectly portrayed by consummate gentleman John Ingle - will continue on the daytime drama into the foreseeable future."
But in a surprise move, Ingle refused the new contract and jumped ship to a rival network. The actor assumed the role of Mickey Horton on Days of our Lives following the unexpected retirement of long-time veteran, John Clarke.
In a lurch now that the role of Edward had been given more face time, General Hospital cast Days of our Lives vet Jed Allan in the role of Edward. Now, Ingle has announced that he will be headed back to General Hospital, replacing the actor that replaced him just two years ago. But why now when GH's Edward has lingered on the sidelines? According to a setside source, the writing team of General Hospital has a storyline brewing that will feature Edward rather prominently over the next few months.
There is no word yet on how Days of our Lives will handle Ingle's departure, although some fans are whispering on message boards that Mickey might be killed off. However, the show issued a statement saying, "There is no plan at this time to recast the role of Mickey."
"We are thrilled to have John back as Edward," said a GH spokesperson, "and we want to thank Jed for his contribution to the show."
Ingle returned to the studio to tape his "first" scenes on March 23. Those scenes will hit the airwaves on April 18.