Storied General Hospital executive producer Gloria Monty has lost her battle with cancer. Monty died Thursday, March 30th in Rancho Mirage, California. She was 84.
Monty took over the reigns as executive producer of General Hospital in 1978, at a time when the ABC soap was reportedly on the verge of cancellation. Under her supervision, Monty helped lead the show into what many fans and critics consider to be a golden age.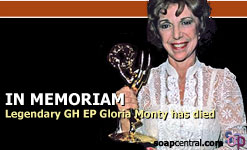 "She created the legacy that we continue to uphold while producing General Hospital," said ABC Daytime president Brian Frons. "She was a wonderful leader and she will truly be missed"
General Hospital earned five Daytime Emmy nominations for Outstanding Daytime Drama Series under Monty and won two, in 1981 and 1984. Ahead of her time, Monty led the charge to recruit younger viewers to the show long before advertisers started demanding a younger demographic. Part of her vision to accomplish this goal was to up the production value of GH to put it on par with its primetime counterparts.
"In the late 1970s, Gloria Monty transformed soap opera viewing from a housewives' pastime to the cool thing to do," noted Emmy winner Jane Elliot (Tracy Quartermaine). "As I was a beneficiary of that transformation, I will be eternally grateful and will miss her terribly. I can't wait to see what she does with heaven."
"Gloria Monty was a pioneer with great clarity and vision," recalled Jacklyn Zeman (Bobbie Spencer). "Her creative ideas had and continue to have an enormous impact for the entire daytime television industry. For those of us who knew and worked with her, we loved Gloria as family."
Another part of Monty's GH legacy will be some of the shows most memorable supercouples: Luke and Laura, Frisco and Felicia and Robert and Holly.
"As a music director on GH during Gloria's early reign, I had the great good fortune to watch her genius at work.," added current General Hospital executive producer Jill Farren Phelps. "She was tough and fearless and brilliant, and I learned so much from her. General Hospital was reshaped by her vision, and daytime as we knew it would never be the same again. She will always be remembered by everyone in the industry, but especially by those of us who were part of her beloved GH family."
Funeral arrangements are private. Ms. Monty is survived by her sister, Norma.