The rumors can finally be put to bed: Finola Hughes (Anna Devane) will be returning to General Hospital next month. And her return will be part of a wild May Sweeps period that will have three of the show's most popular veterans returning to Port Charles.
"As we continue to uphold the tradition of good storytelling and bringing back our legacy characters, it was a perfect choice to have Finola return to the canvas as part of the upcoming story for May. We have listened to the fans by creating one of the most anticipated reunions in daytime television between Robert and Anna Scorpio," said ABC Daytime President Brian Frons. As reported by Soap Central in March, both Tristan Rogers (Robert Scorpio) and Emma Samms (Holly Scorpio) have already been confirmed for return engagements on the ABC soap.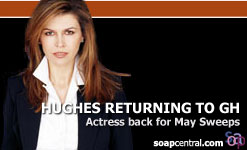 It seems as though talk of Hughes' "impending" return has been making the rounds for months, if not years. However, the latest round of rumors started earlier this year when a GH source hinted that the show was going to be bringing back on of Robert Scorpio's wives. Conventional wisdom had many believing that Hughes would be the obvious choice, but "the powers that be" shook things up be opting for Emma Samms (Holly Scorpio) - another of former Mrs. Scorpio -- instead.
But that did not stop the rumors.
Last month, when what turned out to be an Internet hoax claimed that a "major announcement" from ABC was imminent, fans wondered if the network would finally be announcing that Hughes was returning to General Hospital.
Throughout all of the back-and-forth rumors, Hughes remained tight-lipped about her rumored talks with ABC about a possible return to General Hospital. Indeed setside sources disagreed over whether Hughes had even been approached by ABC. In some published reports, Hughes was said to have rejected ABC's offer because the salary involved was too low. Other reports claimed that ABC had not even made an overture to Hughes.
"I am very excited to be reprising the role of Anna and reuniting with my General Hospital family. My return has to do with Kimberly McCullough (Robin Scorpio) convincing me to come back to Port Charles... and whining a lot," Hughes said with a laugh.
It has been a full 14 years since Anna has set foot in Port Charles. Hughes made a brief return as a "vision" in 1995. Her character did, however, surface on GH sister soap All My Children from March 2001 to September 2003. During Hughes' stint on All My Children, McCullough also made a three-day guest appearance. Hughes last set foot in Port Charles in 1992.
Hughes will first air on May 12th.